Beaks-N-Wings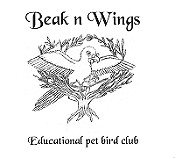 About Us
This club was designed by Dean Tyson to be a learning club.
Meetings
We hold our meetings on the 3rd Monday of each month at the Pet Stop on Neiman Road in Overland Park, KS.
More Info
Contact Dean Tyson @ (913) 722-2632
Events
September 14th in Lees Summit MO there will be an AWESOME bird fair.....Vendors always welcome.